For the rest of the summer I am going to be participating in this fun little blog hop/giveaway.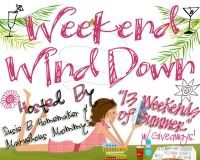 Here is how it works:
If you've never linked up for the Weekend Wind Down before, here's how you can join in the fun:
Become a follower of both hosts
Write your blog post on the theme or copy and paste the question listed.

Make sure the "Weekend Wind Down" Button is visible somewhere in the post

Link up your "Weekend Wind Down" post

using the McLinky on Sat. or Sun. You will only need to link up once to be seen on all the Blog Hops. (Please link to your actual "Weekend Wind Down" post, NOT your main blog page)
So when you link up, not only do you get to
blog hop around and meet, comment, & follow other blogs (and get new followers for yourself)
... but you also
get an entry into the giveaway contest at the end of the summer... win/win for everyone!!
For the
"13 Weekends of Summer"
, each weekend that you link up is an entry into the
giveaways
at the end of the summer. After the last weekend in summer (weekend #13- Sept. 18/19), we will draw
2 random winners
for the giveaway prizes (we'll be revealing them soon...)! Read full giveaway
rules
.
Without further ado, here's the question for weekend #1:
Are you going to, or did you already, take a summer vacation this year... to where?
My Answer: We actually are not really taking a summer vacation this year, we plan on going down to Oregon a few times and we have to go down to California for my grandma's funeral so I think that is going to be vacation enough for us this year.
Now it's you turn: Head on over to this
BLOG
to participate.