Oh how I have missed a few weekends linking up to this. I have just been way to busy on the weekends and then when I do have a free minute it seems like all I am doing is trying to clean my house. So this is the last weekend for this meme.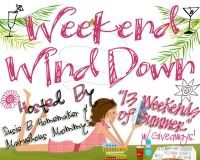 This week's question:
How many memes do you usually link up with in a week, and which one or which day is your favorite

?
I usually link up to a Friday Follow to try and get some more followers to my blog and the only other one I have done on a regular basis is this one, which is my favorite. Hopefully I can find another like this one.
ENJOY YOUR WEEKEND EVERYONE!!!!